A Rolls Royce wedding car
Hire a Rolls Royce car for weddings from from Kruuz Chauffeurs. Rolls Royce wedding car hire made easy.
Rolls Royce wedding cars are the finest available for wedding hire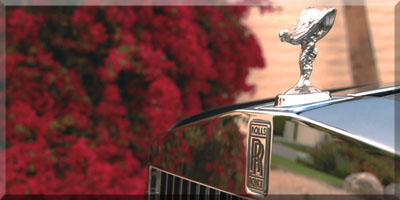 The 'Spirit of Ecstasy', often known as the flying lady, is certainly the most attractive and probably the best known motor car mascot in the world. Designed by Charles Robinson Sykes, she has adorned the radiators of Rolls-Royce motor cars since 1911 and concealed a hidden passion. This marvellous mascot was modelled after a woman who had bewitching beauty, intellect and esprit - but not the social status which might have permitted her to marry the man with whom she had fallen in love....
Which Rolls Royce wedding car?
Dare to go topless on your wedding day with the jaw dropping new Rolls Royce Phantom drophead convertible or play it safe with a new Rolls Royce Phantom hardtop, the decision is yours.
We specialise in silver wedding cars, we have the Rolls Royce Phantom in Silver aswell as the Bentley Arnage in silver.
| | |
| --- | --- |
| | A fine example of a rare classic wedding car in white. Old is gold, and this Phantom is still a head turner to this day |
A brief history of Rolls Royce
Rolls Royce, a marque of excellence
Frederick Henry Royce was born near Peterborough, in Cambridgeshire, England on 27th March 1863.
His interest in engineering was sparked at 14 years of age, when he started an apprenticeship at the nearby Great Northern Railway Works, but by 19 he had already started his own manufacturing company, with friend Ernest Claremont.
The business was successful, and by 1903 Royce could afford to buy his first car - a second-hand French Decauville. Though typical of the cars of the day, Royce was dissatisfied with the standards of construction and workmanship, and began building his own car, using the Decauville as the starting point.
He went on to build three cars in total, Claremont and another friend, Henry Edmunds using the others. Edmunds was extremely pleased with his car, and told his friend, Claude Johnson, all about it. News eventually filtered through to Johnson's boss, Charles Rolls, and a meeting was arranged for Rolls and Royce to meet at the Midland Hotel, Manchester. The pair agreed on a deal: Rolls gaining the excusive rights to sell all the cars Royce could produce.
The newly founded Rolls-Royce Motor Cars made its international debut at the Paris Salon of 1904, exhibiting two-, three-and-four cylinder cars of standard-setting quality. Within three years Royce's engineering genius had created the Silver Ghost, a car of legendary smoothness and, thanks to completing a 14,371-mile run virtually non-stop, unprecedented reliability.

The world famous Rolls Royce radiator grille is entirely
hand made with no mechanical instruments used.
It takes one person an entire day to make the grille
while another five hours are spent polishing it.
With production of the Silver Ghost the company flourished, eventually out-growing its original Cooke Street factory and moving to an all-new Royce-designed factory at Nightingale Road in Derby. Tragically, Rolls died in a flying accident soon after, but Royce continued to work, despite suffering ill-health. Now in semi-retirement, he worked from his home in West Wittering, West Sussex, expanding the business by designing aero engines, while Claude Johnson managed car production.
After the First World War, Rolls-Royce resumed car production, introducing the new Phantom I and II. By 1921 the company had also made a move into the United States, building a factory in Springfield Massachusetts. Both car and aero engine businesses were flourishing, a highlight being the success of Rolls-Royce's 'R' aero engine in the Schneider Trophy - an international air race for sea planes, which RR-powered aircraft won in 1929, 1930 and 1931. It was this engine that would ultimately be developed into the legendary Merlin, which powered allied aircraft such as the Spitfire, Hurricane and Lancaster. It was in 1931 that Rolls-Royce acquired the ailing Bentley Motors, but sadly Royce would not see the Merlin's success, or enjoy challenge of building a more sporting car, for he died on April 22nd 1933, aged 70.
The Second World War meant focus shifted to building aero engines, both at the Derby Works, and a new factory, commissioned by the Air Ministry, and built at Crewe in Cheshire, which would eventually become the home of Rolls-Royce Motor Cars from 1946.
Business was good throughout the 1950s and 1960s, Rolls-Royce managing to buy-out Britain's other great aero engine manufacturer, Bristol Siddeley in 1966. Unfortunately, Rolls-Royce then encountered difficulties developing its latest jet engine, and in 1971 Rolls-Royce Ltd went into receivership, the company divided into separate aero and motor car companies.
In 1980 British defence company, Vickers plc bought the car division, and continued to produce Rolls-Royce and Bentley cars until 1998, when it was sold to Volkswagen. While VW took control of Bentley and the Crewe factory, Rolls-Royce was bought by BMW Group, at which point work began on building a new project team, finding a Greenfield site and building a new factory, and designing an all-new world-beating car - the Phantom - which was launched on Jan 1st 2003.
Call us now for a free no obligation quote on your exact wedding car hire needs, our serivce caters for all weddings, no matter how big or small.