The Bentley Arnage wedding car
Hire a Bentley Arnage chauffeur driven car for your wedding
Wedding car hire in London with Kruuz chauffeurs is a simple affair.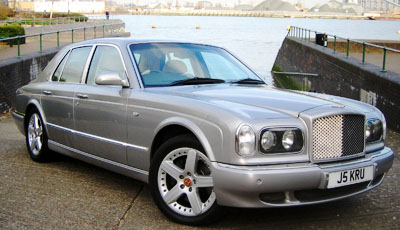 Up to 4 passengers (3 in rear 1 in front)
Bentley Arnage in silver, black or maroon
Full leather interior
Bring your own wedding music CD
If your thinking about hiring a chauffeur driven Bentley Arnage for your wedding then look no further. Our Bentleys are in perfect condition.
London wedding car hire starts from just £399 for the
Bentley Arnage, in silver or maroon.
We provide ribbons for weddings and floral arrangements are also available as an option. All our chauffeur driven wedding cars have CD players so you may bring your own music for the journey.
=============================================