Prestige chauffeur driven Bentley Arnage
Hire a Bentley Arnage chauffeur driven car for your wedding
Wedding car hire in London with Kruuz chauffeurs is a simple affair.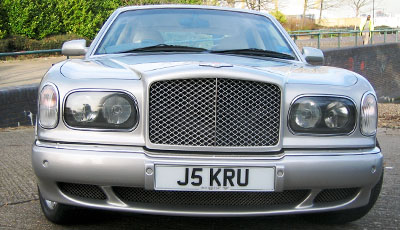 The Arnage wedding car is available in many colours, including silver and maroon.
The Bentley Arnage has a 6.75 litre engine, capable of doing 0-60 in under 6 seconds, an amazing feat considering the amount of luxury onboard. The Bentley Arnage is an impressive wedding car with a lot of presence. Come and see the Bentley Arnage for yourself before you decide on the wedding car for you.
London wedding car hire starts from just £399 for the
Bentley Arnage, in silver or maroon.
We provide ribbons for weddings and floral arrangements are also available as an option.
=============================================