Phantom car hire for weddings
Phantom car hire for your wedding from Kruuz London chauffeurs
Interior of the Rolls Royce phantom. Phantom car hire direct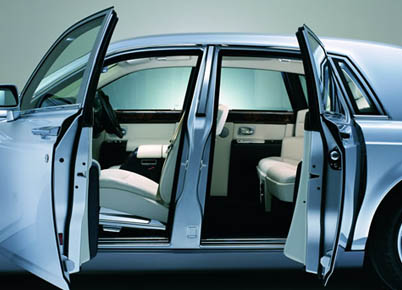 A bold and distinctive feature of the Rolls Royce Phantom are the rear-hinged coach doors. While they undoubtedly offer an added sense of occasion when entering and exiting the car, the coach doors also perform an important safety function. Side-impact protection is much-improved, both as a result of rear passengers sitting inside the fixed body structure of the car, and thanks to a significant intrusion reduction over a standard rear door configuration.
The Rolls Royce Phantom has an incorporated closing assistance system for the rear doors, which can pull the door shut from any opening angle, allowing rear passengers to close the door from within the passenger cabin at the touch of a button. There is also a soft-close mechanism that pulls all the doors closed through the final 6mm of travel, minimising effort and noise.
Contact us with details of your full wedding day car hire requirements in London or beyond and we will provide you with a tailored price.