Rolls Royce Phantom chauffeur car hire
Hire a Rolls Royce Phantom for your wedding from Kruuz
Wedding car hire in London with Kruuz chauffeurs is a simple affair.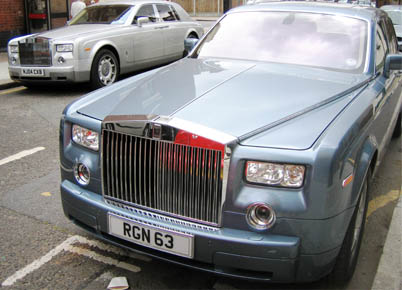 Silver is the most demanded colour for modern wedding vehicles from our experience. Kruuz chauffeurs have the new Rolls Royce Phantom in silver, aswell as many other shades. Book early to be sure you get the colour you really want for your wedding day.
Before booking your Rolls Royce Phantom wedding car
make sure the colour is right, if its silver you're after
dont settle for a dull grey!
Rolls Royce Phantoms come with either rear bench seats or bucket seats. All our Rolls Royce Phantom wedding cars come with bench seats, seating up to 3 in the rear without any partitions, so there is no separation of the wedded couple. Phantoms with bucket seats can only accomodate 2 passengers in the rear.
Before you book your Rolls Royce Phantom check wether the rear seats are right for your needs.